After years of using mats and glass to frame my watercolor paintings, I've found a way that's easier, less expensive, and produces better results! (Click on the paintings for more products)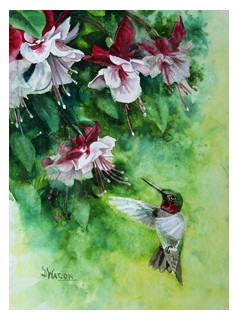 Supplies:
painting done on 90 or 140 lb. watercolor paper, slightly larger than your mounting board
mounting boards -

Blick's studio artist' panelBlick's studio artist' panel are heavier, thicker panels with opening on the back so you could hang the finished painting without wire
Ampersand's studio panels that I used were thinner, but could be hung with a frame, and they have other products, also, gessobord, aquabord, etc.
flat or cradled - panels come in a flat panel, or what is called 'cradled' - with sides. With a cradled board, you can paint the sides and hang it without a frame for a modern look.
I also use gator board, which I buy from my framing supplier. It comes in different thicknesses, and I usually use the thin, 1/8th inch thick

Acrylic Gel Medium for 'glue'
Varnish - I use Golden Archival Spray Varnish. It's expensive because it's archival. Art friends use different kinds, so you might want to experiment
Palette knife for spreading the gel medium
Box cutter knife to trim painting edges
Roller or brayer
paper towels
Step 1 - Gather the equipment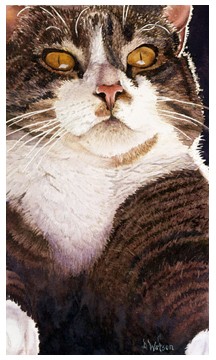 Step 2 - Use the palette knife to spread the gel medium over the surface of the mounting board. Be sure not to spread it on too thin or to miss spots. The edges are especially important - cover them well.
Step 3 - Place your painting on top and roll it down firmly with the brayer. Excess gel medium will squish out from around the edges. Try not to get the medium on your painting - wipe off. Be sure to press well and not miss spots.
Step 4 - (If you're feeling unsure about the whole thing, you can place several heavy books on top to keep flat and let dry or sit for a hour.) Turn the painting side down and use the utility knife to trim off the excess paper. I cut along the board edge.
Step 5 - Be sure it's well dry before varnishing - a day or so if the weather is good and not damp.
Step 6 - Spray on varnish. Do this outside in good ventilation and don't breath in the fumes. Shake the can vigorously. Prop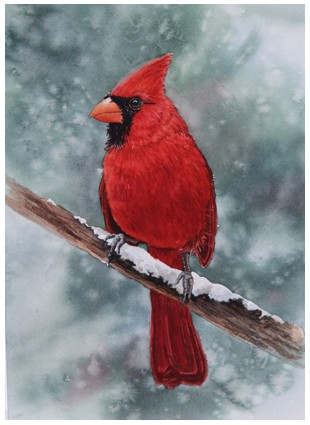 your painting in a somewhat upright position to keep any excess varnish from pooling. I start at the top and spray across, top to bottom, two to four inches away from the painting, a light coat. Let dry and repeat. According to the directions, three coats will give you UV Protection.
I find the mounted watercolors look best in an oil or acrylic frame - usually a 2 to 5" thick wooden frame, although mounting on cradle board looks good unframed or in a floating frame for a modern look.