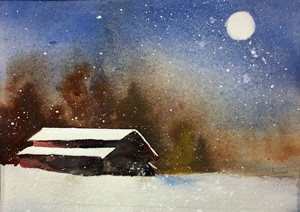 Quick Start Guide To Supplies Needed For These Classes
(All paintings shown are student work)My Supply List At Dick Blick Art Supply (You can purchase all basic supplies for around $80 plus s/h)
For lots more info and tips, please visit the Free Materials Lesson
Use Quality Paper! Good paper and brushes = beautiful washes and joy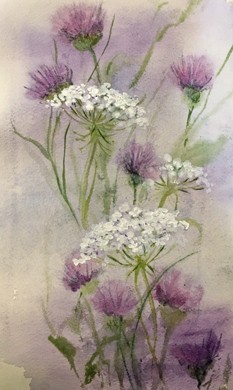 Cheap paper and brushes = frustration and mud
PAPER: Arches 140 lb. cold pressed paper or Kilamanjaro Paper (from Cheap Joe's Art Supply) Buy quality paper and I'll show you how to get the most for your money.
BRUSHES:
Soft Wash Brush with a good point - Silver Black Velvet 3/4" oval
round synthetic watercolor brush with sharp point
PAINTS:
Any brand of watercolor paint is fine, but Dick Blick brand or Cheap Joe's American Journey brand will cost a lot less for the same quality as the more expensive name brands.
I use artist grade paint from tubes, which I squeeze onto my palette and let dry.
3 Colors Minimum to start:

cobalt blue,
lemon yellow and
quinacridone red.
I'll show you how to mix all the colors you need from these three and discuss more colors you may want to try.

An opaque white for touch up and painting - Pro White by Daler Rowney.

NEW - Qor brand paints are professional quality paints that don't fade as they dry. They cost the same as other artist grade paints, but you use less to get the same color intensity so it's cheaper in the long run.
PALETTES: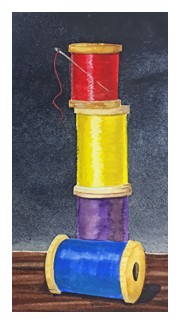 Palettes keep your paint organized and ready to go.
For beginners or travel, a small folding palette works well and is inexpensive.
For larger paintings, a palette with a lid and bigger mixing spaces is convenient.
MISC. STUFF:
Paper towels
Masking tape
Backing board - cardboard with waterproof cover or gator board or a drawing board
Graphite paper (make your own for the best and most inexpensive results)
Container for water - disposable plastic tubs work well, one for clean and one for dirty
Mr. Clean's Magic Eraser (available at your grocery store in cleaning aisle)
Misting spray bottle
Scraper - you can use an old credit card that's cut in half, a razor blade, a palette knife, etc.
Old photos or flyers to cut stencils out of
Masking fluid and masking remover
Salt
Plastic wrap (Saran wrap)
Bit of natural sponge
Toothbrush

There is no right or wrong with art - just what you prefer.
My lessons are geared towards you developing your own unique style in easy to follow, fun steps. I'll help you learn the basics techniques and concepts while creating art you can share with your family and friends.
Invite a friend to paint along with you, or start your own painting group.