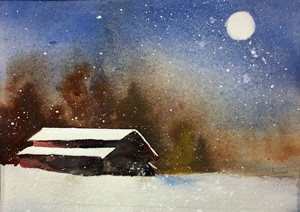 SUPPLIES
(All paintings shown are student work)
You can find most of the supplies used in these lessons at the link below -
My Supply List At Dick Blick Art Supply
For more information and helpful tips on materials, visit the Free Materials Lesson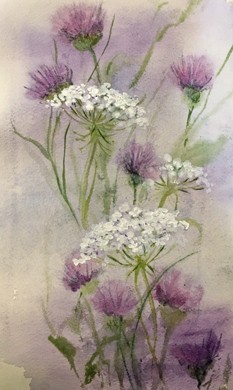 Basic Supplies:

PAPER: Arches 140 lb. cold pressed paper (sheets or block) or Kilamanjaro Paper (from Cheap Joe's Art Supply) You can use student grade paper to begin with, but it won't take a smooth wash. Even if you just start with one 22" x 30" sheet of paper, you can tear it into eight 7 x 11" pieces and use both sides, so it's a good value.
BRUSHES: You don't need a lot of brushes, just one or two good ones.
Soft Wash Brush with a good point - Silver Black Velvet 3/4" oval

round synthetic watercolor brush with sharp point - I use size six and ten but many like having a smaller one, too.

A flat hake brush (size 1" up) is useful for wetting the paper and applying washes

Liner Brushes (also called Script or Riggers) are useful for doing lines
PAINTS:
Start with basic colors and learn to mix. It's cheaper and you'll learn faster.

Student grade is fine. I use artist grade paint from tubes, which I squeeze onto my palette and let dry.

3 Colors Minimum to start, or buy a sample set (Qor brand has several nice sample sets available.)

cobalt blue,

lemon yellow and

quinacridone red.

Opaque white for touch up and painting - Pro White by Daler Rowney.
PALETTES: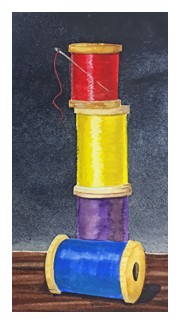 Palettes keep your paint organized and ready to go.
For beginners or travel, a small folding palette works well and is inexpensive.
For larger paintings, a palette with a lid and bigger mixing spaces is convenient.
MISC. STUFF:
Paper towels

Masking tape

Backing board - cardboard with waterproof cover or gator board or a drawing board or a wood panel

Graphite paper (make your own for the best and most inexpensive results)

Container for water - disposable plastic tubs work well, one for clean and one for dirty

Mr. Clean's Magic Eraser (available at your grocery store in cleaning aisle)

Misting spray bottle

Scraper - you can use an old credit card that's cut in half, a razor blade, a palette knife, etc.

Old photos or flyers to cut stencils out of

Masking fluid and masking remover (see supply link at top - Pebeo Drawing Gum)

Salt - table salt or any larger salts

Plastic wrap (Saran wrap)

Bit of natural sponge or 'funny brush'

Toothbrush for spattering and scrubbing out.

Remember - there is no right or wrong with art - just what you prefer.
These lessons are geared towards you developing your own unique style in easy to follow, fun steps. You'll learn basic techniques and concepts while creating art you can share with your family and friends.
Invite a friend to paint along with you, or start your own painting group.